Managing Eczema Prone Skin in the Sun
As much as we've been moaning about the weather recently, I pray it will get warmer soon so you need to be prepared.
As with managing eczema, some creams and emollients will work and others won't, it's a matter of trial and error.
There are two types of sunscreen:
chemical absorbers – those that absorb UV radiation
mineral-based reflectors – which reflect UV radiation
Many people with eczema find mineral-based sunscreens to be less irritating to their skin but this won't be the case for everybody. Some people with eczema fair better with sensitive, fragrance-free sun scream instead. You need to find out what works for you and your child.
Test Before you Go Abroad
You're advised to test on a patch of skin 5-days before you go out in the sun or on holiday and see how the skin reacts. It could sting or irritate the skin and you don't want to be stuck abroad without a suitable alternative.
At the bottom of this post I've included some tips for managing eczema whilst in the warm weather or on holiday, that you should consider in addition to a suitable sunscreen for babies and children with eczema.
Here are a few sun creams I've found online that are fragrance-free, intended for sensitive or eczema prone skin or are mineral-based. From experience, I've found that some of these products aren't available in stores, so my advice is to shop online.
The Best Sun Cream for Babies and Children with Eczema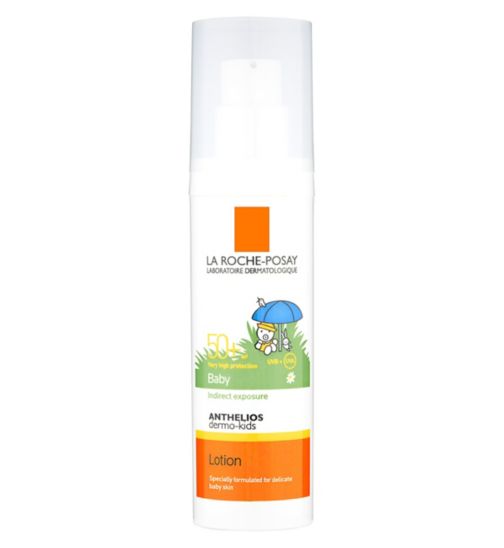 We have personally used this*, the one above is the baby formulation. It's slightly thicker than the kids version and goes on white as a guide as most baby sun care products do. This worked well for Poppy without irritation.

We have also used this formulation, less thick than the baby formulation and is one of our favourites. Definitely needed 2 of these for a 10 day holiday last year.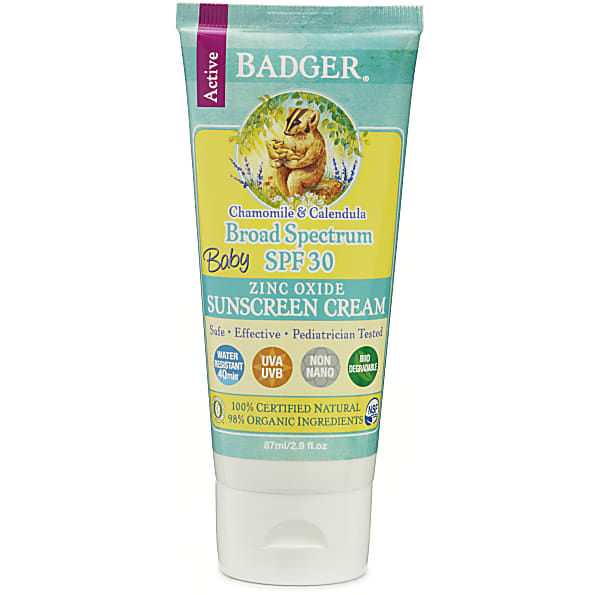 Also comes in SPF 30+ here
Also comes in a version for Toddlers, here
Tips for Staying Safe in the Sun for Eczema-Prone Skin
Children should wear a hat in the direct sunshine.

Stay under a parasol when the sun is at its highest, i.e. between noon and 2pm when you should have lunch or take a siesta.

Keep a gap between applying an emollient to moisturise the skin and applying the sun cream to avoid diluting the SPF.

Gently apply the sun cream as over-rubbing may set off itching.

Wear UV resistant swimwear, a rash guard that covers the arms is a good option.

When choosing a sun cream for babies and children with eczema the advice is to look for 'zinc oxide' as the active ingredient on the label, or 'titanium dioxide' as a second choice.

If you are using a chemical sun screen (as opposed to a mineral or mineral-based sun screen, spray in your hand before applying all over).

Children and babies with eczema should have a bath or shower every evening and the skin should be cleansed with an appropriate cleansing product suitable for eczema prone skin to remote any product and dirt sitting on top of the skin. The usual emollient or natural, sensitive after-sun products like aloe vera can be applied before bed.
I will be adding more sun cream for babies and children with eczema as I find them. If you have any reviews of these creams, please do share.
For more details about the National Eczema Society you can call them on 0800 089 1122, email helpline@eczema.org or visit www.eczema.org.
The above post is not to be considered medical advice, and nor are you to use the information contained in this post instead of seeking medical advice from a qualified medical practitioner. Please contact your GP or the National Eczema Society if you have concerns regarding your skin or the effective management of eczema.